Welcome Progressive Insurance Employee!
About the Program:
---
Thank you for your interest in Playhouse Square's Corporate Exclusive Online (CEO) Ticketing Program! This program was designed specifically to give businesses and organizations the exclusive convenience of purchasing show tickets online at a special rate with reduced handling fees.

Some advantages to the program are:
Discounted tickets for most shows
24/7 access to purchase tickets
Opportunity to purchase select shows before the general public
"Select Your Seat" option and confirmation of seating
Flat $7.00 handling fee on all orders
Your Corporate Exclusive Deal is:
---

CEO Members save $5.00 off tickets to the family-friendly theater event of the year!
Put the world at their fingertips and bring the child(ren) in your life to Playhouse Square for a live performance experience! Choose from three international shows that are part of the International Children's Theater Festival, happening May 6-7, 2017. In addition to these entertaining, educational shows, there are a variety of free activities and concerts taking place throughout the Playhouse Square District to make your day a memory worth cherishing.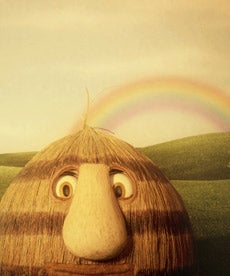 Grug and the Rainbow
May 6, 2017 • 11:30 a.m., 2:30 p.m.
May 7, 2017 • 1:30 p.m.
For ages: 3-6

Based on the much-loved picture book character created by Ted Prior, Grug is back by popular demand!

Grug began his life as the top of a Burrawang tree that fell to the ground. Resembling a small, striped haystack with feet and a nose, Grug is fascinated by the world around him and solves everyday problems creatively and without fuss.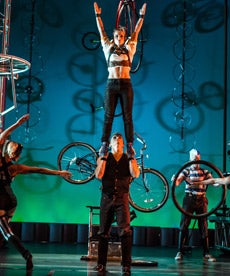 Pedal Punk
May 6, 2017 • 1:00 p.m.
May 7, 2017 • 1:30 p.m.
For ages: 5+

Enter the world of Pedal Punk, a Steampunk-inspired place where cycling is the way to escape the technology obsessed society. This production, featuring a 20-foot-high, pedal-powered mechanical masterpiece, the performers amaze with a heart-pounding pole drop, awesome aerial acts, and high-flying tricks (on a trampoline!). With every spin of a sprocket and rattle of a wrench, the quirky cast of characters transforms a bevy of bikes into an astounding assortment or acrobatic apparatus in this adrenaline-fueled circus for the whole family.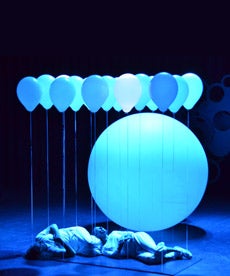 The Moon's a Balloon
May 6, 2017 • 11:00 a.m. & 2:00 p.m.
May 7, 2017 • 2:00 p.m.
For ages: 3+

The Moon's a Balloon is a visual-theater production that celebrates the possibilities of play, the making of friendships, and the wonder of creation. Simple white balloons, two performers, and a musician can, through exploration, play and search for meaning, give rise to a rich variety of composition, beauty, laughter, wonder, joy, and story, and delight and inspire the hearts and minds of the audience.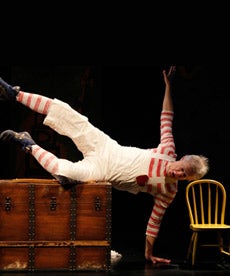 Morgan's Journey
May 6, 2017 • 1:00 p.m. & 3:30 p.m.
May 7, 2017 • 3:00 p.m.
For ages: 3-6

Morgan's Journey is a captivating exploration of joyous yet challenging childhood experiences and offers audiences a unique opportunity for active participation. From the moment of his birth, audiences follow Morgan the Clown on a journey of discovery, delighting in the presents he receives, especially his last one, a wise sock puppet who becomes his companion. Encountering inevitable growing pains, Morgan learns a valuable and moving lesson about love and the true meaning of friendship. This production, with a creative drama post-play experience is the perfect show to transition your child into the world of theater. ​
Your Corporate Exclusive Bonus Deal is:
---

CEO Members save up to 75% off the price of regular tickets!
SOMETHING ROTTEN!
April 25- May 14, 2017

From the director of Aladdin and the co-director of The Book of Mormon, SOMETHING ROTTEN! is "Broadway's big, fat hit!" (New York Post).

Set in 1595, this hilarious smash tells the story of Nick and Nigel Bottom, two brothers who are desperate to write a hit play. When a local soothsayer foretells that the future of theatre involves singing, dancing and acting at the same time, Nick and Nigel set out to write the world's very first MUSICAL! With its heart on its ruffled sleeve and sequins in its soul, SOMETHING ROTTEN! is "The Producers + The Book of Mormon x The Drowsy Chaperone. Squared!" (New York Magazine).
Something Rotten! is part of the KeyBank Broadway Series.

​
How to purchase your tickets:
---

1.) Click the link: playhousesquare.org/ceo
2.) Enter promo code: SHOWTIX
3.) Click "Go" and choose your performance, seating level and seats!

Questions or concerns about your order? Call 216-640-8600 and mention your promo code.
*Please note: Online-only promotion. Select seating levels and performances. All sales are final. Returns, exchanges and retroactive discounts are not possible.