Brown Bear, Brown Bear & Other Treasured Stories by Eric Carle

Special Girl Scout Day:
---
SOLD OUT -- Sunday, January 29, 2017 at 2:00 p.m.
Theater: Ohio Theatre
Recommended levels: Daisies and Brownies

About the Show:
---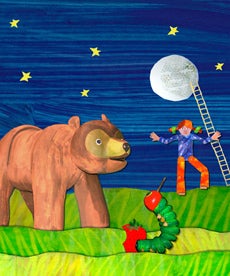 Mermaid Theatre of Nova Scotia's acclaimed composite of storybook favorites will enjoy widespread touring in 2016-2017. First premiered in 2011, BROWN BEAR, BROWN BEAR & OTHER TREASURED STORIES BY ERIC CARLE brings together old favorites and new friends. The hour-long production showcases the imaginative blend of innovative puppetry and striking scenic effects which have won international acclaim for the Nova Scotia-based theater. To date, some 400 performances have been applauded by close to 250,000 spectators across North America and Singapore.
The Very Hungry Caterpillar joins a whimsical menagerie drawn from the pages of Brown Bear, Brown Bear, What Do You See? Celebrating its 50th anniversary, the story was written and illustrated by Carle and Bill Martin, Jr., and has served to introduce generations of youngsters to the delights of identifying colors and objects. The heartwarming father and daughter quest for an unusual plaything, Papa, Please Get the Moon For Me, offers a splendid introduction to the wonderment of the lunar cyclE.

BROWN BEAR, BROWN BEAR is part of the Children's Theater Series presented by University Hospitals and Rainbow Babies & Children's Hospital.

Girl Scout Seating and Pricing:
---
(Includes patch and GSNEO donation)

SOLD OUT: BALCONY B: $12.00

Additional date and seating options may be available upon request. For more information, call Moira Beale at 216-640-8608 or fill out the form below.
---

Do you need more information about the Girl Scout Days program? Please fill out the form below or contact Moira Beale directly: