Carnival of the Animals

Special Girl Scout Day:
---
Saturday, May 7, 2016 at 2:00 p.m.

Theater: Ohio Theatre
Recommended levels: Daisies and Brownies

About the Show:
---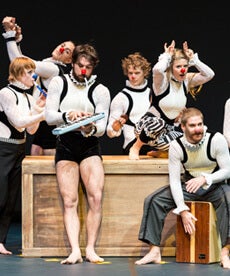 The Circa Carnival comes to town with whimsical tales of creatures of land and sea, who tumble, fly, leap and spin their way through the many wondrous worlds of the animal kingdom. Our zebras juggle and flip… Our kangaroos skip and somersault… We've elephants with street-cred and rhythm… And even our dinosaur bones shake, clatter and roll to the music.
Carnival of the Animals whisks you away on a thrilling circus escapade inspired by Camille Saint-Saëns delightful salute to feathers, fur and fins. Circa's acrobats bring this classical music suite to life for a whole new generation of circus, music and animal lovers.

CARNIVAL OF THE ANIMALS is part of the Children's Theater Series presented by University Hospitals and Rainbow Babies & Children's Hospital.

Enhance Your Experience:
---
Children's Theater Series Workshop
Adding a workshop to your Girl Scout Day experience is a great way to enhance your troop's experience at our Children's Theater Series performances. Led by professional teaching artists these forty-five minute workshops are fun, educational and only $5 per participating scout.

Girl Scout Seating and Pricing:
---
(Includes patch and GSNEO donation)

ORCHESTRA: $12.00
BALCONY: $12.00

Additional date, seating and pricing options are available upon request. For more information or to order please fill out the request form below or call Moira Beale at 216-640-8608.

---

Do you need more information about the Girl Scout Days program? Please fill out the form below or contact Moira Beale directly: