Mr. Popper's Penguins

Special Girl Scout Day:
---
Saturday, January 27, 2018 at 2:00 p.m.
Theater: Ohio Theatre
Recommended levels: Daisies and Brownies

About the Show:
---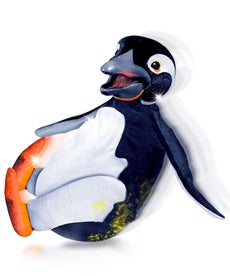 In the small town of Stillwater, Mr. and Mrs. Popper are pleasant, practical, predictable people. But when a package for the Poppers produces a penguin, chaos waddles into their lives! Soon, the Poppers open their home and hearts to not one, not two, but to a bunch of boisterous black and white birds! With catchy songs and penguin puppets aplenty Mr. Popper's Penguins, a brand new musical adapted for the stage by Pins and Needles Productions (Bristol, UK), will have you chirping with cheer!

MR. POPPER'S PENGUINS is part of the Children's Theater Series presented by University Hospitals Rainbow Babies & Children's Hospital.

Girl Scout Seating and Pricing:
---
(Includes patch and GSNEO donation)

BALCONY B: $12.00

Additional date, seating and pricing options are available upon request. For more information or to order please fill out the request form below, visit Groupmatics to purchase directly or call Moira Beale at 216-640-8608.

Groupmatics:
---
Due to unprecedented growth and popularity of the Girl Scout Days program at Playhouse Square we have partnered with Groupmatics, an online ticketing program to provide you with 24/7 access to Girl Scout Day tickets. In addition to selecting your own seats at the special GSNEO rate, all purchases made include the commemorative show patch and donation to GSNEO! Please note: Troops of 10 or more are encouraged to contact Moira Beale directly.

Click here to view available seats and purchase your tickets through Groupmatics!

---

Do you need more information about the Girl Scout Days program? Please fill out the form below or contact Moira Beale directly: