The Moon's a Balloon

Special Girl Scout Day:
---
Sunday, May 7, 2017 at 2:00 p.m.
Theater: Ohio Theatre
Recommended Levels: Daisies and Brownies

About the Show:
---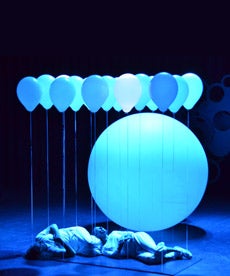 A balloon can be many things. It can be a friend to play with or a maker of friendships. A balloon can be something loved or something lost; something shared or something broken. A balloon belongs to everyone, everywhere. It knows no borders or boundaries. Balloons connect us to each other in all kinds of ways. The Moon's a Balloon was inspired by a poem by ee cummings which suggests that amazing possibilities can come from the simplest of things.
The Moon's a Balloon is a visual-theater production that celebrates the possibilities of play, the making of friendships and the wonder of creation. One of the underlying themes of the show is that all sorts of possibilities reside in the simplest of things. Simple white balloons, two performers and a musician can, through exploration, play and a search for meaning, give rise to a rich variety of composition, beauty, laughter, wonder, joy and story.

THE MOON'S A BALLOON is part of the Children's Theater Series presented by University Hospitals and Rainbow Babies & Children's Hospital.



Girl Scout Seating and Pricing:
---
(Includes patch and GSNEO donation)

BALCONY A: $12.00
BALCONY B: $12.00

Additional date, seating and pricing options are available upon request. For more information please fill out the request form below or visit Groupmatics to purchase tickets directly.

Groupmatics:
---
Due to unprecedented growth and popularity of the Girl Scout Days program at Playhouse Square we have partnered with Groupmatics, an online ticketing program to provide you with 24/7 access to Girl Scout Day tickets. In addition to selecting your own seats at the special GSNEO rate, all purchases made include the commemorative show patch and donation to GSNEO!

Click here to view available seats and purchase your tickets through Groupmatics!


---

Do you need more information about the Girl Scout Days program? Please fill out the form below: