Hotel & Dining Guide
Please call ahead before heading out to dine. Operating hours for each location may vary.
The Wyndham Cleveland at PlayhouseSquare
1260 Euclid Avenue
Details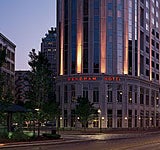 Make your visit to Playhouse Square a complete experience. For only $135.00* per night, you can extend your experience with a hotel stay the the luxurious Wyndham Cleveland. Your overnight stay will include breakfast for 2. (Show Tickets are priced separately.)
To purchase tickets and a hotel stay together*, you must use the link below.
To create a package, click here.
Search through our shows and select one to attend.
Once you select your show, simply click the "add hotel stay" button to add an overnight stay* right from your shopping cart.
The hotel is located in the heart of Playhouse Square, just a block away from our theaters. The brand new RTA Healthline bus stops right out front, offering a 10-minute ride east of downtown to University Circle, the home of the world renowned Cleveland Orchestra, Cleveland Museum of Art, the Botanical Gardens and the Cleveland Museum of Natural History. Or take the Healthline west to visit Tower City shopping, the new and exciting restaurants and bars of East 4th Street or take a short walk to Quicken Loans Arena and the famous Warehouse Dining District.
About Wyndham
Wyndham Cleveland is the preferred hotel of Playhouse Square. Recent renovations and new guest amenities only add to your convenience. Retreat into your own private hideaway with spacious guest rooms, filled with thoughtful touches for comfort and convenience. When you need to take a break, a relaxing indoor lap pool and fitness center are your own personal oasis.
*Hotel blackout dates may apply.
Halle Building Parking
1002 Prospect Ave
Details
Ampco System Parking
1600 Euclid Avenue
Details
US Bank Garage
2060 E 14th St
Details
Hanna Garage
1509 Prospect Ave
Details
Playhouse Square Parking Garage
1450 Chester Ave
Details
Playhouse Square Parking Garage
1450 Chester Avenue
Details